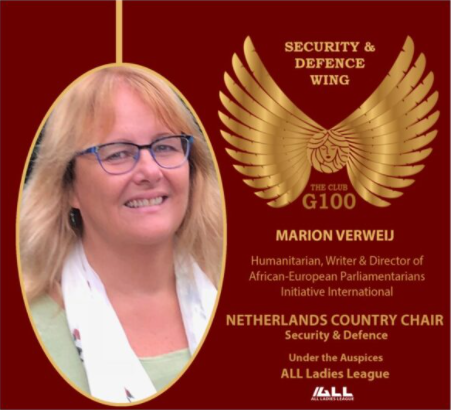 Marion Verweij, Humanitarian, Writer & Director Operations African-European Parliamentarians Initiative (AEPI)
Marion Verweij is a writer, poet, researcher, speaker and workshop facilitator on themes relating to positive world change and development. She has experience writing on a wide range of subjects, genres and formats. Her passionate belief that we need to take care of what we have been gifted for the future find's expression in various activities, from journalistic articles addressing the environment or socio-humanitarian issues.
Marion has been engaged in humanitarian activities in Africa for over 20 years through her work in various developmental and women's organisations and personal voluntary projects. She directs the African-European Parliamentarians Initiative (AEPI), which focuses on democracy and parliamentary capacity building in Africa. In 2021 she was invited to be Netherlands Country Chair for the Security & Defence wing of the G100.